"I love you, Oppa" What's the Mystery Behind SNSD's Autograph That is Putting Oppas in Trance?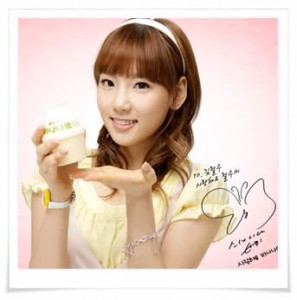 "Oppa, I love you."
Just by looking at Taeyeon's big picture with her autograph right next to it automatically leaves your mouth open in awe.
"Yes, oppa loves you too~"
Currently on the internet, SNSD, Park Boyoung, and other stars are being welcomed through a new marketing business of an online autograph signing. In the online autograph signing, fans have the chance to receive autographs with their own names signed by the stars and are increasing in popularity.
Since fan's personalized cafés, blogs, and etc, have been bragging about the autographs with their names signed, it has the possibility of bringing natural effects in advertising their product.
SNSD's Taeyeon, Yuri, Sooyoung, Seohyun, and Sunny opened online autograph signing through Binggrae's Banana milk advertisement. If you go to the following website, http://www.bingba.co…sign/bingba.asp, you can get autographed bromides from SNSD members, the current models of banana milk with any message you desire.
Numerous phone calls were made even before it opened. The autograph signing that opened on May 13th has been downloaded 10,000 times on its first day and currently has a total number of 160,000 participants.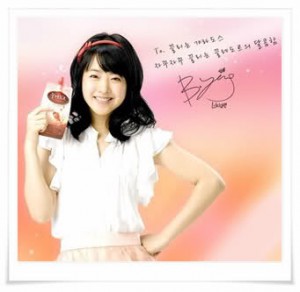 It's not just SNSD. Park Boyoung who currently models for Cledor also has an online autograph signing as well. If you go to http://www.cledor.co…ent/cfevent.asp, you can also get autographed bromide by Park Boyoung just like the one with SNSD.
With at least 1000 downloads on May 14th, the day of its opening and 20,000 participants 15 days later, this have been attracting many people's attention. The websites that advertise their products have been able to increase the number of the visitors by two times with the online autograph signing.
Binggrae's advertisement team, Suh Hosung representative said "Ever since online autograph signing became popular, fan cafes have been proposing events themselves." Online autograph signing has a higher rate of participation than normal product events and has been able to attract attention towards their product, serving a double purpose.
Instead of waiting hours to get a celebrity's autograph, neatly laminating then safely keeping it, 'cyber' sign has now become the new 'thing' of replacing the old method.
—
Source: Chosun
Credits: Sosiz.net
Translated by: blingbling9@soshified.com