'Cinderella Man' Kwon Sangwoo, Kiss Scene with 20 Year Old Yoona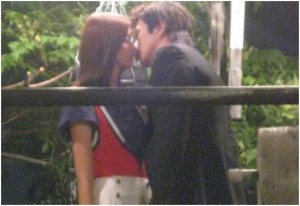 Eyes have been on the current star, Kwon Sangwoo as he has a surprising kiss scene with SNSD Yoona in the MBC Wednesday, Thursday drama 'Cinderella Man'.
'Cinderella Man' that will end on the 4th has given hints to the TV viewers that the major male and female characters, Kwon Sangwoo and Yoona will have kiss scenes and end in a happy ending. However, the producer said that no one knows the ending and have been keeping his lips tight on whether or not Oh Daesan (played by Kwon Sangwoo) and Seo Yoojin (played by Yoona) will happily reunite.
In 'Cinderella Man', Kwon Sangwoo moves on from his recent failures and shows his charisma as a romantic guy. His previous work 'My Tutor Friend' as a comedy movie displayed fantastic teamwork with the top star, Kim Haneul, but in this drama, he meets Yoona as his new partner and has been evaluated as showing his experience in acting.
On the 30th of the last month, Yoona who turned 20 years old (in Korean age) filmed her very first kiss scene as an actress right the next day which showed her maturity as an adult after her coming-of-age ceremony. Yoona wrote a greeting on her official homepage saying 'I don't like how I don't have the opportunity to meet my fans because I'm busy with the drama' and uploaded a picture with a cake sent by her fans without any make-up.
'Cinderella Man' took place in the Dongdaemoon market, the number 1 shopping market thatâ??s popular both day and night in Korea, as a drama where Kwon Sangwoo displayed his burning passion for acting by playing 2 different roles at once for the first time.
He played Lee Junhee who is a timid fashion plutocrat and as Oh Daesan who has a burning ambition for his clothing store in Dongdaemoon while Yoona played Yoojin who encountres both love and dream of Daesun and overcomes being double-hearted to seek love.
'Cinderella Man' is a very important piece of work for both and other actors. As an actress, Yoona took first steps forward, which were more of a burden due to her daily drama 'You're My Destiny' that had a high program rating while Kwon Sangwoo needed this to recover from his failed drama, 'Bad Love'.
Although Hwang Jungmin-Kim Ahjoong's 'Babo' and Cha Seungwon-Kim Sunah's 'City Hall' and etc have jumped in the tense competition with the Wednesday, Thursday dramas, 'Cinderella Man' was confirmed to have a steady audience and recognized to be a well-made drama.
—
Source: http://cafe.daum.net/milkye
Translated by: blingbling9@soshified.com