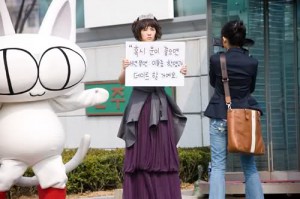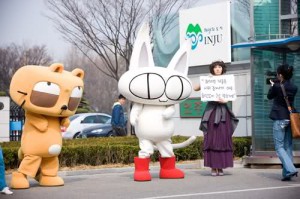 SNSD's 'Gee' has drawn attention by being played in the SBS drama, 'City Hall'.
'Gee' was played as Shin Mirae's (played by Kim Sunah) protest song during the drama, 'City Hall' while she was holding a one-man protest stage in front of the city hall.
Shin Mirae wins a beauty contest and 200 million wons as reward on a previous episode, but stages a one-man protest when she is deny her reward money. At the protest, Shin Mirae's old anarchist friends 'Cat of the attic' and 'My eraser' cheers her on dressed in cute doll outfits and dancing along to 'Gee'.
The fresh and cute girls of SNSD brought with them a hurricane of cute dances and colorful skinny jeans with 'Gee' as their title song of their 2nd album. 'Gee' has been parodied on various shows, dramas and CFs such as 'Taehee Hyegyo Jihyeonie', 'Infinity Challenge', '1Night 2 Days', 'Rude Youngeh' making the phrase 'This is now Girls Generation' feel as if it's actually true.
A representative of 'City Hall' stated, 'This was a scene that tried to lighten the serious mood of the drama that is heavily based on politics' and also, 'Even the staff could not hold back their laughters when the anarchists did their cute dances to 'Gee' on the filming set'.
Also on the cards that Mirae holds up during her protest is a parody from 'Love Actually' and will surprise the viewers with the random pictures of Seo Taeji, Seo Jisup, Lee Minho as well as pictures of other famous celebrities.
The scene where Mirae shows off her cute 'Gee' dance during her one-man protest will be included in episode 6 of 'City Hall' that will air at 9:55 PM of the 14th.
—
Credits: newsen.com
http://newsen.com/news_view.php?uid=200905…%E0%BD%C3%B4%EB
Translation: k_Taevid @ soshified.com