SNSD Taeyeon cried for secret camera (Korean version of "Punk'd")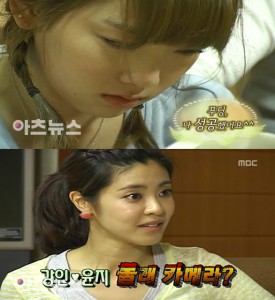 From the last episode, Kangin – Yoonji couple and Taeyeon- Hyungdon couple battled for the "Love House".
On that day, they battled for "Pudding-Jelly Love House".
They battled in a game called "Al-Kka-Gi". The loser was to get out of their house and switch up with Pudding-Jelly's love house. And the winner will have all the freedom for themselves. But at the end, Pudding-Jelly lost the bet and lost their house.
But, hours before, Hyungdon and Taeyeon planned a secret camera for Kang In and Yoonji. So that day, they wondered when will it start.
All of sudden, Taeyeon said, "All we came here was to have fun, but it is really strange of you". And, then Hyungdon said "Its two o' clock already, so let's go to sleep and get out". And then Taeyeon said, "So, why did you made that hard bet?, It's really serious to switch up our house". And so, they talked on. And then, Hyungdon said, "Then you should have stopped me for doing this". And then, they fought.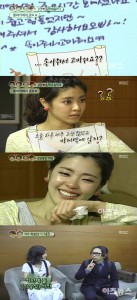 Kangin tried to calm them down, and wrote down in a paper and said, "We are gonna only use it when we come here for MT", and requested to Hyungdon. Hyungdon waited for this, and accepted it.
And then, Hyungdon and Taeyeon gave Kang In and Yoonji a rolling paper. They wrote, "You guys did really well today, and finally…" and then wrote, "you guys were so innocent and pure that you guys fell for this trap, and wrote "ㅋㅋㅋㅋ (aka "LOL").
Although this was awkward secret camera, Yoon Ji learned about it, was surprised and cried little bit.
On May 3rd, We Got Married, season 3 couples will all leave and season 4 couples will be coming to the show.
Translated by: FanyTae@soshified.com/forums
Credit to: Park Hae Lan/Arts News