SNSD's Tiffany and Yuri performed "On Saturday Night" with Son Dambi. The performance opened eyes to the sexy dance moves.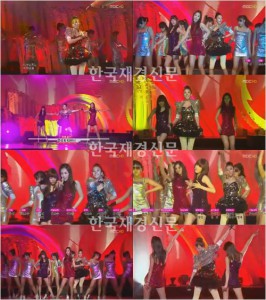 On the 25th, at 4:10 in the afternoon on MBC's "Show! Music Core", the MCs, SNSD's Tiffany and Yuri, had a joint stage with Son Dambi.
On this day, it was the last performance for both people, so when it was Son Dambi's turn, questions such as "Don't you smell some kind of medicine? We practiced really hard yesterday" and "We'll leave from here" arised, so they decided to get on stage.
Son Dambi's "On Saturday Night" stage started and during the second-half, Tiffany and Yuri appeared in black and red miniskirts, with sexy allure. With Son Dambi, they perfectly performed the right dance moves and drew in viewers' attention.
Translations: kkbluvv@soshified.com/forums
Credit: http://kr.news.yahoo.com/service/news/shel…;newssetid=1352