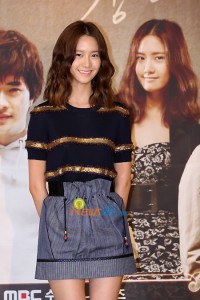 Yoona saw her first episode of "Cinderella Man" with her rest of the members, SNSD.
On the 15th, Yoona and her members all went to their dorm and watched Yoona's Cinderella Man.
A staff from SM Entertainment said, "Even though she was very busy, she got to watch her 1st episode with her members and was able to monitor her acting. She noticed that she was very nervous in that episode. After finish watching first episode of 'Cinderella Man' she said she needs work harder on her acting".
As other members watched the drama, they cheered for her time to time; the girls thought it was fun and enjoyed a lot.
According to the company, Yoona was very determined during this drama. And that Yoona will be greatly represented as a great actress and a singer.
In Cinderella Man, Yoona is Seo Yoojin, a designer. Unfortunately, after Seo Yoojin found out that her father suddenly passed away, she had to drop out from the prestigious fashion school in France and come back to Korea, where she works hard at East Gate market.
Translated by: FanyTae@soshfied.com/forums (John)
Credit: 김형우 (Kim Hyung Woo) cox109@newsen.com