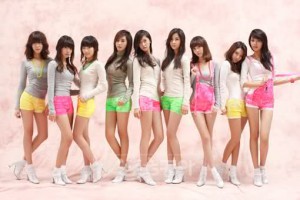 'Music Bank' record for being no. 1 for 9 consecutive weeks… Once you change the channel… Another win. 1536 airplay.
Female group SNSD (pictured above) on the 29th will have their last 'Gee' performance on 'Inkigayo'. The 'Gee" syndrome was a topic of discussion everyday and SNSD's 80 day journey is coming to an end.
9: 'Music Bank' record for being No. 1 for 9 consecutive weeks
SNSD, on KBS 2TV's 'Music Bank', has set a record for being number 1 for 9 weeks with their title song, 'Gee'. Last year, in February, Jewelry with 'One More Time', set a record of being number 1 for 7 weeks and that record has been broken a year later. SNSD, after being number 1 for 8 weeks said, "If we become number 1 for the 9th week, the 9 members will take pictures with the 9 trophies." and the light joke has become reality.
10: 100,000 albums + 1 billion won music + 10 advertisements
SNSD, with their first mini-album, set a record for selling over 100k albums. According to the company, SM Entertainment, the profit of just albums, is about 1 billion won. SNSD, with the first studio album released in November 2007 and the first mini-album, has had the opportunity to consecutively sell over 100k albums twice.
The sales of their music are estimated to be 1 billion won. According to SK Communications, the total 'Gee' ringtones and caller rings have surpassed 1,240,000 downloads. Cyworld minihompys' background music (BGM) have surpassed a record-breaking 350k downloads. Due to SNSD's popularity, they are exclusive models for beverage products, cosmetic products, uniforms, etc. and have appeared in more than 10 advertisements.
1536: The number of airplays, 1536 airplays
SNSD, with 'Gee', have vigorously had more airplays than ever. The total number of shows from sites' air monitors show that in two months, SNSD have been on a record of 1536 airplays with 'Gee'. (Radio, satelite-DMB TV, cable TV). The sole appearances on satelite-DMB KBS, MBC, SBS alone have been 83 airplays. Compared to the earlier hit song 'SNSD' with only 68 airplays, there's 20 more times the airplay. The song 'Himnae' is already a record with 198 airplays, proof of a successful mini-album promotion.
SM Entertainment, on the topic of SNSD's activity says, "The best outcome of 'Gee', is that regardless of age, it's receiving love from everyone." and "The fact that the 'SNSD's style' fashion and dance was a topic of discussion, is something that has changed this time around."
Credits: Sosiz
Translated by: Hyunjin808@soshified.com/forums