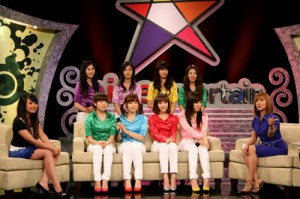 SNSD and Kara both jokingly expressed their discontent at their managers for liking the other girl groups.
During MBC's "Come to Play" recording set to air on the 23th, Korea's 7 representative idol male groups such as Tohoshinki and Big Bang chose Kara's Gu Hara as the teenage girl they liked deep in their hearts. After hearing the news, Gu Hara commented, "I was hoping that SNSD's Seohyun wasn't one of the chosen (as the teenage girls that the male idols liked). Our manager likes her a lot recently."
To this, SNSD's Sunny then shot back, "Our manager likes Kara's Nicole a lot too," causing the whole studio to erupt into laughter.
SNSD's Sooyoung followed up by grumbling, "Not too long ago when Kara won 1st, our manager was so happy that he cried. I really couldn't stand him then."
Meanwhile, MBC's "Come to Play" is set to air on the night of the 23th at 11.05pm.
Credits: ent.sina.com
Translation: bubzooka@soshified.com