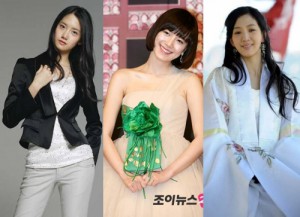 With the coming of searing hot Spring, the greatest concern of girls preparing to head out under the sun is 'Whitening' (Protection of the skin from sunlight). As a result, many of them are envious of beautiful girls who are born with and still possess baby-like complexion.
Yoona, Ku Hyesun and Jung Ryeowon are certainly examples of beautiful female entertainers with baby-like complexion. The trio not only has baby-like complexion, but also great beauty and popularity. Let's take a closer look at how the trio should mantain their pretty, translucent and fair skin from now on.
Yoona, aged 20, who needs to start taking care of her skin
For new generation girl Yoona, from singing to acting there's nothing she can't do. Besides engaging in promotional activities as part of the most popular idol girl group SNSD, she has also been recognized as a rising actress. Yoona, with her tall slender body and a baby face with flawless complexion, appears loveably cute on one hand and exudes pure innocence on the other. Her explosive popularity with males as young as 10 year old boys to as old as 30 year old men is testament to her features and figure. 20 year old Yoona's greatest allure is undeniably her healthy and supple skin which matches with her youthful age.
Flawless translucent skin unstained by freckles is the hallmark of a bright cheery teenage girl who seems sweet as candy, thus it's little wonder why SNSD's Yoona shines so brightly in the Korean entertainment industry. Dermatological specialist Prof Im Shonjin of Green Clinic praised Yoona, who has a typical V line, for possessing sheer fair skin that seems almost translucent. However, he cautions that although Yoona's skin is still supple now due to her youthful age, it is a definite must for her to continue taking care of her skin and that it is also important to avoid a stressful lifestyle.
Credits: Innolife & Digital YTN & Joynews24 & inews24
Translation: bubzooka@soshified.com