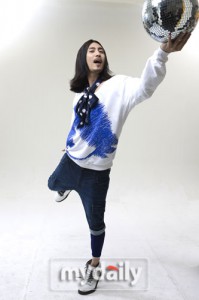 Nassun's title song 'Come to Play' had been selected to be used as background music for MBC's variety show 'Come to Play' hosted by Yoo Jaesuk and Kim Wonhee.
Nassun's company Happy Face Entertainment expressed that the title and content of his song matched very well with the nature of MBC's 'Come to Play' variety show. It was pure coincidence that the MBC production side requested to use the song as the show's background music which was happily agreed to by the company.
Viewers of the show nationwide in Korea will be able to hear Nassun's 'Come to Play' from the 16th onwards. 'Come to Play', the title song of Nassun's second mini album, is an addictive song with a joyful tempo and recurrent melodies. The song drew in even more attention by featuring Kara's Han Seungyeon and SNSD's Tiffany.
Credits: ent.sina.com.cn
Translation: bubzooka@soshified.com