SNSD's Mini-Me characters produced by Web Anime's author Yeonwoo, who was made famous by her manhwa (comic) 'Pink Lady', had become a hot topic amongst Netizens recently.
Users of the social networking service Cyworld express their personalities through the use of Mini-mes, and these avatars serve as an alter-ego for them. SNSD's Mini-mes were unveiled and released to the public on February 18th, and has since gained explosive popularity.
SNSD's Mini-mes revealed this time round were characterised by their cute poses specially taken from the choreography of their title song 'Gee' in their first ever mini album.
SNSD's 'Gee Syndrome' had gained great popularity throughout Korea, and since then the girls had been involved in a wide range of promotional activities in not just the K-Pop scene, but throughout the Korean entertainment world.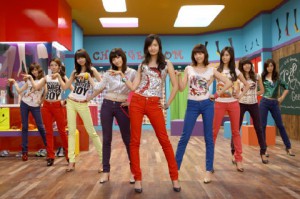 Credits: Chosun Online
Translation: bubzooka@soshified.com