Movieweek covered idol group scene. They interviewed several big names in the scene and it's one of the interviews.
Related to SNSD, they interviewed Choi HyeRyun(stylist), E-Tribe(composer of Gee), and Kang Ho(hair stylist).
It's pretty serious interview related to music industry. So I kinda hesitated to post…but whatever…
My translation is bit rough. I hope the rest interviews were done with better english :)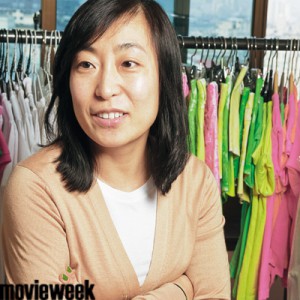 SNSD stylist Choi HyeRyun Interview (Movieweek)
Q: It was an issue that senior stylist Choi HyeRyun of Magazine Base accepted styling for SM Ent.'s SNSD.
A: SM settled new strategy of styling. They gave styling job to a Korean designer working internationally for TVXQ, a Korean designer for SHINee, and a Korean stylist for SNSD. SM's strategy and My infra and needs were put together.
Q: What was the first thing SM wanted?
A: It was making SNSD suggesting fashion you can wear on the streets. They had a vision of connecting girls' outfits to street fashion. You can expect its economic consequences.
Q: Did SM pursue win-win with fashion brands?
A: SM's suggestion for me was mainly public relations with brands. SM wanted feedbacks from brands and I had connections. It was the time for SNSD to connect to brands with better quality for upgrading their images. Hipsack from Colombo, T-Shirts from Blue Girl, and dress from Luis Vuitton and Chanel became possible for them. There was feedbacks from various brands including Kai Aakmann and On And On. It is 3 times more than SNSD before Gee.
Q: Doesn't styling get shaky because of brand sponsors?
A: Never. Rather SNSD began from styling to brands. It is usual that SNSD's outfits are made or reformed. In case of production, It's co-work concept,in which we order a design and brand makes it. In case of reform, we get sponsored from brands and reform in our ways.
Q: Do you feel industrial difference between times of colorful stage outfits and now?
A: For teenagers, idol is regarded as absolute subject for imitation. Idol outfits were the ones teenagers cannot imitate in the past. However idol fashion became closer to street fashion. idol now provide teenagers practical fantasies. It's the time when teenagers and fashion industry getting to meet. There is a possibility to go beyond Korea to China and Japan.
Q: Which process did you go for Gee's fresh styling?
A: After deciding the song, it was sent to me secretly. I made images while listening to the song in the car for about a month. Then I exchanged ideas with art team of SM and did detailed analysis. The SNSD members were mostly high school students during the first album, so they had to look like students. However everybody graduated except for Seohyun for the mini album. We decided freshness of univ freshman for concept of Gee, which is the story about fluttering of the first love. We didn't emphasize sexy code explicitly. It is shown implicitly like healthy fit of jeans.
credits: Movieweek
http://www.movieweek….html?aid=18534
translation: bossa747 @ soshified.com