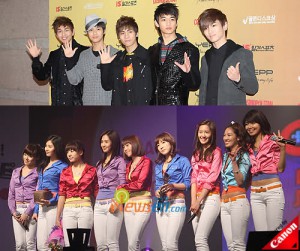 SNSD and SHINee will be attending the 2009 Pattaya International Music Festival
SNSD and SHINee will be representing Korea at the 2009 Pataya International Music Festival in Pattaya, Thailand.
They will perform the main stage on the 21st during Prime Time.
A Korean contact for the International Cultural Exchange Foundation said "Artists have been going to the festival since 2006 to spread the Korean culture and to help artists gain fame outside of Korea. We picked SNSD for their effect on the music industry in the beginning of 2009 and SHINee who were 2008's best rookie artist."
The Pattaya International Music Festival is hosted by Thailand Travel Association and Thailand's GMM Grammy, as well as Korea's International Cultural Exchange Foundation. This will be its eighth year and artists such as Super Junior, Lim Junghee have appeared.
Original: NewsEn
Translated by: dongie@soshified.com/forums