Yoona-Kim Hyunjoong's photoshoot from three years ago, now a topic of conversation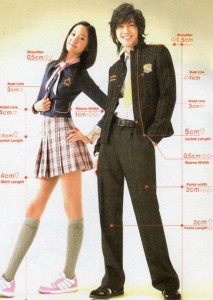 The recently revealed fact that 'SNSD' Yoona and 'Flower Boy' F4 Kim Hyunjoong had a photoshoot together three years ago is now becoming a topic of conversation.
Yoona and Kim Hyunjoong were school uniform models in the photoshoot, and looked almost the same as they do now, but with a slightly younger feel.
The two especially showed off their long legs and slender bodies and received attention with professional modeling poses.
Kim Hyunjoong, who is a member of SS501, is currently acting in a KBS Mon-Tues drama, 'Boys Over Flowers' and is receiving a top-star-like popularity, and SNSD Yoona also acted in MBC 'You Are My Destiny' as Saebyuk, gaining fans of all ages.
ⓒ reviewstar.net
Translations credits to Daisy Kim or daisy @ Soshified.com
http://kr.news.yahoo.com/service/news/shel…;newssetid=1352