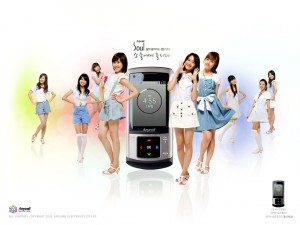 The rising Girl Groups are friends with each other? WonSoKa line?
The Girl Groups' friendships are unlike from all the others. It would seem like these three girl groups would have rivalry feelings of each other, but it has been revealed that they were all close friends and it is gaining a lot of fan's attention.
Even though SNSD and Wonder Girls were rivals of each other ever since the beginning of their debut, they have become well accustomed to each other through various TV Shows, and both groups became big supporters of each other. They are the opposite of the antifans of each group.
Sun Ye and Yoo Bin from Wonder Girls and Taeyeon from SNSD have established a strong friendship with each other. Yoobin also have read a text message that she had received from Taeyeon, on a radio program. It is also known that SNSD's maknae Seohyun is also a close friend with maknae Yoobin(?)
Kara is also known for having friends in both SNSD and Wonder Girls. Kara's Han Seung Yeon, and Wonder Girls' Yeeun are fellow schoolmates at Kyung Hee Univeresity. Kara Park Gyuri and Wonder Girls Yoobin knew each other ever since their high school days.
Kara's Jung Nicole also built a strong unni-dong saeng relationship with SNSD's Tiffany, given that they both lived in America before becoming celebrities in Korea. Nicole also has been close friends with Hyoyeon even before they debuted.
Because of these strong friendships that the groups have for each other, the fans also have been voicing out to cooperate and to support each other. These fans named this friendship as "WonSoKa Line," after taking out a part of each groups' names and putting them together in to one word.
Credit: Newsen
Tip off: Anne
Translated by: Hopelesshong@Karaholic
——
i think it was supposed to say maknae So Hee…