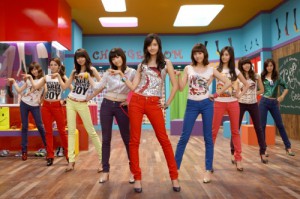 All-girl pop group Girlsâ?? Generation is poised to top the 100,000 mark in album sales. If the nine-member group does so, it will become the first musician this year to sell more than 100,000 copies in Korea. The groupâ??s agency said that the album sold around 70,000 copies as of January 29th, twenty days after the album release.
The news is especially encouraging to the struggling Korean music industry, as the girlsâ?? album is not a regular album, but a mini album containing only five songs. The success of the mini album hints at the likely popularity for their second regular album. The first album of Girlsâ?? Generation sold about 102,000 copies from November 2007 through March 2008. This is the first time that a female idol group topped 100,000 copies in album sales since the fifth album of S.E.S. recorded 400,000 copies back in 2002.
The spiking album sales can be attributed to the albumâ??s addictive title song, â??Gee.â? The catchy and funky song has already finished No.1 in various music programs.
Source: KBS World
Credit: http://seoulfull.wordpress.com