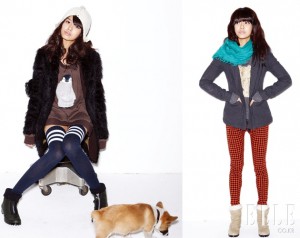 Who helps you in times of trouble?
Usually, I keep it to myself and solve it on my own. I share my deepest thoughts with those who are close to me.
Also, I reiterate this phrase often, "It'll just go away…"
What kind of society do you wish for?
I wish people would be more considerate to others. Today, you can even kill someone by pointing fingers at them, aren't I right? I hope people will stop torturing each other with words.
What do you think of the kids?
I really like kids. One time, I visited an orphanage and helped the disabled kids take shower. As I was helping them take shower, I said to myself, "ahh all the kids are same. Whether they are disabled, delinquents, or rich, all kids need to be loved. How would you spend a meaningful winter? I hope the main focus will be on people, instead of money. I think spending time with your friends and family is the best.
Anything in the past, which touched you/inspired you?
Lately, my mom has been attending school for "mothers". I think she's a great mom; but I think she wants to be even a better mom. Other day, she wrote me a letter for her homework. The title of the letter was "20 reasons why I love my daughter". I remember after reading that letter, I cried a lot.

What can you do to make the world a better place to live?
I think I just have to focus on my work. I want people to say, "my hopes are up, whenever I listen to your music".
Sooyoung's eloquent response for each answer amazed me. In the middle of the interview, her puppy-like eyes became reddened. This was when she was talking about her mother's love for her. I felt like giving her a big hug..
http://www.elle.co.k…tml?AI_IDX=5332
credits:ellegirl.
trans by cathode@soshified.com/forums