SoNyuhShiDae Yuri's first date in 'Love Generation'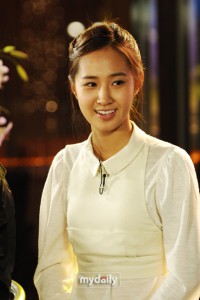 [My Daily = Yang JiWon] SoNyuhShiDae's Yuri experienced an unforgettable first date.
In 'Love Generation,' which will be broadcasted on the 6th, Yuri participated in the corner 'MooJun Dating' where she followed a date course with singers Lee SungJin, Lee JiHoon, and actress Hong SooHyun.
'MooJun Dating' is a corner for couples who are having a hard time dating because of the rising prices.
Yuri finished her date shooting that day after playing games such as eating jjajangmyun (black bean noodles) together, just like a normal couple would.
Yuri had to spend the day with only a tenth of the average amount of money that Korean couples in their 20s to 30s use during their dates, but still seemed to have a great time, eating a plate of jjajangmyun for only $1.80 and finding ways to get into an amusement park for free.
'Love Generation,' which was broadcasted once last Choosuk (Korean thanksgiving), will be broadcasted on the 6th at 11:05 PM.
[SoNyuhShiDae Yuri. Picture = SBS]
(Yang JiWon Reporter – jiwon@mydaily.co.kr)
Translated by: Daisy Kim @ Soshified