[16.10.08] SNSD's Comeback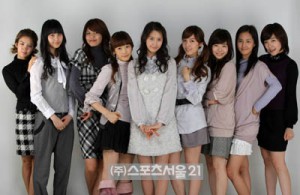 Together with Wonder Girls, they transformed last year into a 'girl' revolution, and now SNSD is set to make their comeback.
At the end of this month, SNSD will introduce their second album and will be a part of this eventful autumn that has been full of the top singers making their comebacks in the music industry.
SM Entertainment recently released a statement saying, "SNSD's new album will have dance, ballads and other various genres. Moreover, if last year's debut was full of fresh charm, then for this new album, we will show you a SNSD that has been upgraded with a more feminine feel."
Facing the release of their new album, they have been taking methods to become more closer to their fans. The best case of this would be their reality program "SNSD's Factory Girl" that premiered on the 8th on the cable channel MNet. This program showcases the entertaining situations that occur to SNSD as they transform into editors for a fashion magazine. All of this is in an attempt for them to become closer with their fans as the release of their album draws nearer.
This program was actually filmed following their conclusion of their promotional activities for their first album and during a break time that they had. They matched the broadcast time with the time that the new album is set to release in order to increase the effectiveness of their promotion.

Credits to SportsSeoul and boxclub@ www.soshified.com/forums

The important thing to note here is that thus far, SM has not released an official statement regarding the release of SNSD's album until this statement. Furthermore, the Korean press is not known for its (ahem) journalistic integrity, and that is why there has been numerous conflicting reports of the album release date. Some said mid-October, some said early November, this one says late October. The fact that SM has not given an official date yet means that you should NOT be getting all excited and then disappointed with the reports from sites like Melon or Dosirak that have (or had) release dates on their charts or from blog sites. Until something is released from the official SM camp, don't believe anything else that comes out about the album.
That being said, the one thing that's clear is that the second album WILL be released very very soon.
So look forward to it ^^