[01.10.08] SNSD's Unique Resumes Revealed!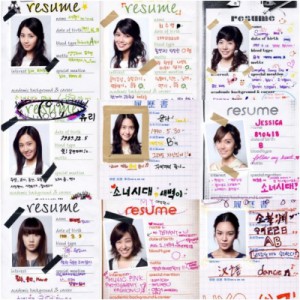 Group SNSD shows their charm through their individual resumes.
SNSD is currently gaining attention for their unique resumes that they directly filled out for their upcoming show on the music and variety cable channel on MNet called "Factory Girl" (Kwon Youngchan PD), where they take on the roles of fashion editors.
SNSD's maknae, who always has a calm and quiet image, wrote "If you miss out on me, you might be making the biggest mistake of your life" on her resume filled with aegyo. Moreover, Sunny who always has a cute and loveable presence while performing wrote "Although I am still lacking in alot of ways, if you pick me, I will do my best to be the best editor for you."
Additionally, Jessica wrote on her resume "I will try hard not to fall asleep", confessing to the reality that she likes to sleep alot.
The main producer said "SNSD experienced the same course that magazine editors must go through. And filling out the resume is one part of that course," adding "Unlike the glamorous external view of the fashion world, SNSD got to experience the incredible work and effort that goes into being a fashion editor in order to stay ahead of the fashion, style, beauty, trend, shopping and stars of today."
The PD added, "You can see the viewpoint of SNSD change into a more trendy image" and "Instead of viewing Factory Girl simply as a reality program with SNSD as the main characters, it is rather a program combining reality, trends and celebrity".
The Korean reality version of "The Devil Wears Prada", SNSD's "Factory Girl" will debut on October 8th at 6PM on MNet.
credits to BizPlace and boxclub@ www.soshified.com/forums
SNSD's resumes translated – http://soshified.com…?showtopic=9629