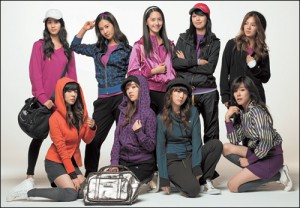 SNSD are the stars of sports clothing brand Ellesse's autumn photo shoot.
They are no longer the girls that sang "not to tease them." Besides their grown height, each and every one of their poses gives off a vibe of a young lady, as opposed to a girl. They seem to be able to handle their accesories like bags and hats like professional models.
The bright and vivid colors of their outfits seem to bring out the girls' bright and active personalities.
However, the best part about the photo shoot is that fans are happy to see all 9 girls, who are all active separately through dramas, solos, and tv shows, in one picture.
credits to 우왕쨩윤아@sosiz.net and Hankooki.com
translations by Seannn@soshified.com