It was announced today that one member each from popular groups like SuperJunior, Jewelry, Wonder Girls, SNSD, Brown Eyed Girls and Shinhwa will come together for new singer, Lee Bul in a series of promotional clips plus the actual music video which caught the attention of many which is expected.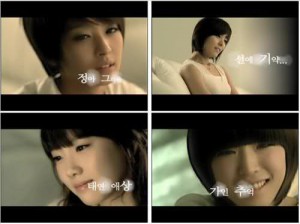 Mnet Media revealed today that Park Jung Ah (Jewelry), Sun Ye (Wonder Girls), Tae Yeon (SNSD), Ga-in (Brown Eyed Girls), Kim Dong Wan (Shinhwa) and Shin Dong (SuperJunior) had done a good job for the crying scenes.
Mnet Media expressed, â??The MV concept for this was set as Park Jung Ah (Missing), Kim Dong Wan (Hurt), Ga-in (Remembrance), Tae Yeon (Sadness), Sun Ye (Promise), etc with different feelings for each scene setting. They all did a marvellous job for the crying scenes and the four girls were so emotional that they couldnâ??t stop crying even after the cameras had stopped rolling.â?
The teaser will be released on 1st September online, television and movie theatres while the official music video will be released on 10th September.
credits: coolsmurf @ WG's WordPress