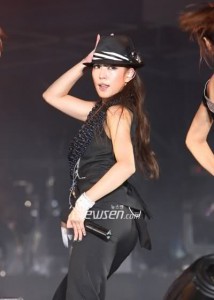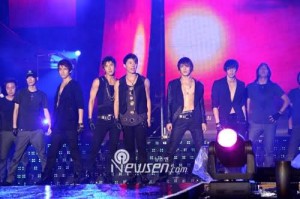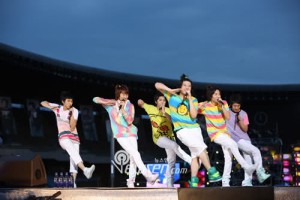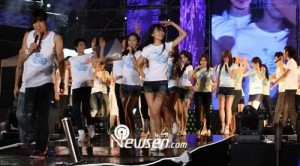 The power of Idols was stronger than expected. The performances of "SMTOWN LIVE 08" heated things up on the 15th in Seoul's Olympic Stadium.
Asia's star BoA, DBSK, SuJu, CSJH The Grace, SNSD, Jang Lee In, SHINee and all the other SM artists performed during the concert for 5 and a half hours.
Although there were views that the event was a family party for SM Entertainment, the skillful artists sang their hearts out and had the 40,000+ fans enthusiastic untill the end.
The artists including DBSK, and SuJu performed with each other to unite the fans. The fans that were only following the artists that they love came together as the artists themselves united.
#DBSK. They came back with a more manly concept. It has already been 5 years since their debut. They sang their 1st album song Hug, and took everyone down memory lane with the school uniform look as well as shocking everyone with their charisma.
They performed Rock, Ballad, Rap, Dance, and more for the fans. DBSK performed hit songs such as 'PURPLE LINE' 'O-正.反.合' 'Rising Sun'. DBSK had the entire stadium in a craze with their 5 years worth of experience.
#Super Junior. 13 people, 13 different characteristics. It was the first time in a while that all 13 members were together. The unique troublemaker characters of SuJu also showed a more charismatic side. SuJu, who enjoyed the performance more than any fan, communicated friendly with fans.
Kang-In and Hee-Chul did a surprise performance with the musical team "Xanadu" in two songs called 'SUDDENLY' 'DON'T AWAY'. Gyu-Hyun sang "A Goose's Dream" with SHINee member Jong-Hyun while Shin-Dong appeared in a dance battle stage and performed Hyori's "U-Go-Girl" perfectly.
#SNSD. SNSD appeared with a cheerleader look and the song "Mickey" and sang "ITNW", "Girls' Generation", "Kissing You" and more. They also sang "Complete" and "The Story I Want To Tell" as gifts for fans.
SNSD ended their performance with the support of their "One Man Against a Hundred" mindset fans and left behind the nightmare of the Dream Concert. Everytime SNSD got on stage that day, there was a strange difference of mood between those there to support SNSD and those that that support DBSK/SuJu but the fans showed a mature fan-ism.
#SHINee. SMTown's maknae, who appeared before the fans with "Nuna Nuh Mu Yeppuh," showed charisma and talent that compares to that of the other SM artists.
SHINee expressed their happiness by saying, "It is an honor to be on stage with the other SM artists" and sang their 1st album title song "You're Like Oxygen" for the first time. "You're Like Oxygen" features a strong beat and has a different feeling than "Nuna Nuh Mu Yeppuh."
#BoA. Asia's star's return was the first since the "AnyBand" stage in November of last year. BoA, who hasn't stood in front of korean fans in a while, performed with a more mature look as well as the everlasting charisma.
BoA, who got on stage near the end of the second half, received the 40,000+ fans' screams/cheers with her usual, if not better, vocal and dancing. BoA heated the stadium with familiar songs such as "Moto", "My Name", "Garden In The Air", "Girls On Top", and "Rock With You".
#CSJH The Grace. "We are not dead yet!" CSJH, who opened the concert captured fans from the beginning with their great vocal and experienced dancing. Dana, Sunday, Lina, and Stephanie performed together with DBSK, and SuJu in the S.M.P. parade and showed a style different to that of SNSD.
Also, Chinese artist Jang Lee In, Middle age artist Choo Gah Yeol, and pianist Song Gang Sung showed amazing performancesthat they have been practicing for.
# 40,000+ fans. Fans moved seats accordingly to the 5 different stages for the stars. The stadium looked more like a track field rather than a concert stage. The artists did their best to show the best performances and the fans did their best to see the stars close-up.
Although rain fell near the end of the concert, the stars performed despite it and the fans kept their seats, showing a mature fan-ism.
Also, "SMTOWN LIVE '08" will perform in 3 other cities in Asia (Beijing, Shanghai, Bangkok) in a tour-like system.
Original: http://www.newsen.co…808160221041002
Translations By: FanyLove@soshified.com/forums