Lee Jihoon – I learned the Ahngtal Dance from Yoona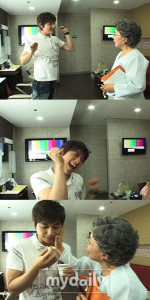 Singer Lee Jihoon showed off a cute dance on MBC's "Happy Shares Company – Manwon's Happiness".
On this day at the recording, according to the program's distinctive quality, Lee Jihoon had to turn down food in an effort to save money and showed off a side of him that has not been easy to see in his 13th years since debuting.
Upon seeing Lee Jihoon, Sa Mija felt sorry for him and tried to directly give him a cookie, but the PD caught her and he had to bargain for it instead. The deal was a mission to make Sa Mija happy.
Coordinated with music, Lee Jihoon did the "fussy dance" that SNSD's Yoona had taught him, making a fun atmosphere for everyone.
About Lee Jihoon's cute dance, Sa Mija said "Lee Jihoon is the mood maker when we are filming. In the future, he'll continue to be not just a good actor but also a good singer," encouraging her hoobae Lee Jihoon.
Continuing, Lee Jihoon showed his appreciation to Yoona who had taught him the dance.
This day's filming will be aired on July 31st at 6:50PM.
credits to MyDaily and boxclub@www.soshified.com/forums