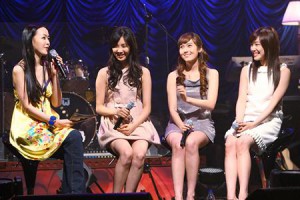 Group "SoNyuhShiDae" Jessica, Tiffany, Seohyun appears on Music&Variety channel MNet's new program "Madam B Salon (Broadcase every Sunday 9pm)".
The theme of the 6th episode of Madam B Salon is "Memories of 20 years old", in which SoNyuhShiDae's JTH appears in. SNSD said: "We really wish to appear on this show. When we watch this show on TV, we always envy those who get to come on the show." when they are being asked about how they felt appearing on the show. For the first time, they performed with a live band MR Accompaniment and they are very excited about it.
The 3 members who are getting even more popular with their song, "Oppa Nappa" said: "Even though it is nerve wrecking performing with a live band, thinking that we have this chance to do so already made us very happy."
Also, even though it's already late at night when the recording took place, the other member from their group, Yuri was there at the studio watching them record with the live band. She encourages them by saying "Don't be nervous! Good Job!" showing the strong teamwork between the members.
The episode with SoNyuhShiDae (Jessica, Tiffany, Seohyun) on Madam B Salon would be broadcast tonight 9pm.
Translations by Wenfany@Soshified
—
I am glad they mention about the strong teamwork the girls have. And its really cool for the girls to work with live band to sing their songs.. (: