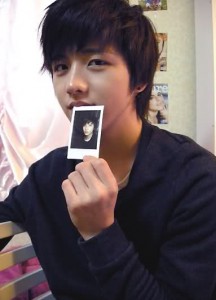 Kim Hyesung, who appeared in movie '제니, 주노' and MBC Sitcom '거침없이 하이킥' says that he splitted with his girlfriend due to difficult times together recently.
Kim Hyesung on SBS 'YaShimManMan' had talked about his girlfriend before. But in an interview on the 9th, he said "We broke up late last year. The excessive media attention on his girlfriend is too difficult for her to take it. I am Sorry (to her)."
After Kim Hyesung talked about his girlfriend, the photos and personal information of her got leaked out onto the Internet. Kim Hyesung and her girlfriend's photos taken together are also leaked onto the Internet. Kim Hyesung said: "It is tough for this friend to be exposed this way".
Many suspected that the breakup is because of SoNyuhShiDae's Tiffany as the breakup happens after Kim Hyesung co-host SoNyunSoNyuh GaYoBaekSo with Tiffany. To this, Hyesung said that it is not true and it is ridiculous.
—-
Credits: Wenfany@Soshified + Daum
pssh… ._.
yes, blame everything to tiffany. stupid people.
then again, i prefer fany-hyesung to any other pairings that fany has.
btw, i did not continue translating the bottom part cus its no longer relevant.