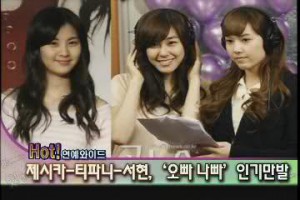 SoNyuhShiDae Members, Jessica, Tiffany, Seohyun with their song Oppa Nappa, created a hot topic since the news of it got out.
The heart of a teenage girl is pure and honest, and the well phrased lyrics and melody of Oppa Nappa made this ballad a hit. The blending of Jessica, Tiffany, Seohyun's voices adds to the appeal making the track well received by fans.
The 3 SoNyuhShiDae members will use a brand new image to greet everyone, and hopes that Oppa Nappa would receive much love and concern from everyone.
Credits: Daum + Wenfany @ Soshified