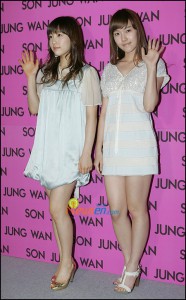 Girls Generation members Tae-yeon and Jessica were among the many stars who attended domestic designer, Son Jung-wanâ??s 08?09 SFAA Fall/Winter Collection at SETEC convention center in Daechi-dong on March 19th, 2008.
[left] [/left]
The fashion picks of the stars were more interesting than the runway.
[left] [/left]
Check it out:
[left] [/left]
The Fall/Winter SFAA shows will run for 8 days until March 24[sup]th[/sup], so expect to see more stars!
Credits: POPSEOUL!