Translations by jstn86@soompi
TAKE WITH FULL CREDITS!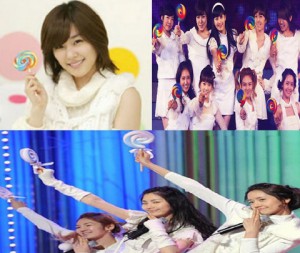 [Ojirap News] Hidden secret behind SNSDâ??s â??Lollipopâ?
[E-Daily SPN Yang Seung-Joon Reporter]
Songs are timeless but the props are not; regarding SNSDâ??s famous lollipop.
With the increasing popularity with the â??lollipopâ? dance from their 2nd song, â??Kissing Youâ?, SNSDâ??s lollipop has been changed 3 times already.
When SNSD first started performing â??Kissing Youâ? in January, the lollipop that they held on stage was an actual eatable candy.
Also called the â??Lollypop Candyâ?? in English, the lollipop catches attention with its fancy red, yellow and other bright colours.
However, there lay a problem with preserving and maintaining the candy. Often these real eatable candies would break into pieces when the dancing SNSD members would accidentally hit each otherâ??s candy while practicing or performing on stage.
SNSDâ??s SM Entertainment set out to make â??unbreakableâ?? lollipop. They received the first batch of the special ordered lollipop on January 18th but its face-covering size and weight turned out to be a problem. A re-order was put in place but this time, its outdated 1980â??s-feel colours made it unattractive to use. After the setbacks, they were finally able to come up with a pastel-toned sponge and styrofoam-material design which is currently being used by the SNSD members.
So â??whyâ?? did SNSD choose a lollipop for their main prop?
SNSDâ??s SM Entertainment affiliate quoted, â??Kissing You contains very sweet lyrics and has a refreshing beat. A lollypop was decided because they needed something other than a dance to emphasize the sugar-like feel of the song.â? They figured that the sweet candyâ??s colours can enhance SNSDâ??s sweetness.
On the other hand, SNSDâ??s Kissing you and its lollypop continues its popularity with Februaryâ??s overall 1st place of finish on KBS 2TVâ??s â??MusicBankâ??, on top of the back-to-back 1st place finish on SBSâ??s â??PopularMusicâ??.