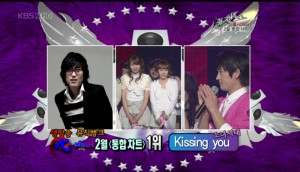 On the live broadcast of KBS 2TV 'Music Bank', SNSD's eyes were flooded with tears as they ranked #1 on
the K-Chart.
Even while their names were annouㅜced as 1st place, SNSD showed expressions of disbelief. The
members then all hugged eachother while crying, making the fans watching choke with tears as well.
However there was a reason why the SNSD cried today unlike any other day. It was because SNSD took a
hard time coming up to Music Bank's stage due to their busy schedules.
Earlier after SNSD's rehearsal was finished, they left to attend an event quickly and was planning to come
back during the live broadcast. However as Yuhedo (여의도)'s Friday afternoon traffic got worst, there were
times when SNSD's car didn't even move for a while on the road.
To the end, SNSD wasn't able to arrive at KBS Public Hall even after the broadcast of Music Bank started.
Hence, the participants were worried there might be a live broadcast accident and nervousness arose in
the waiting rooms of the other artists as well.
The time when SNSD arrived at KBS Public Hall was right after DBSG, the artists in turn before them,
finished singing their last song. SNSD ended up getting off from their cars stuck in traffic and running all
the way to KBS Public Hall and onto the stage. Without any seconds left to spare, SNSD was luckily able to
come up the stage right after DBSG.
Although SNSD ran a considerable amount of distance, evenwhile they had sweats flowing down their
faces and was short of breath, they were able to perform 'Kissing You' perfectly, which relieved the
participants.
As much as they were physically and mentally exhausted, ranking 1st place was that much more
emotional for SNSD.
Even after their encore performance and coming back down to their dressing room, SNSD weren't able to
hold their tears back and celebrated a very emotional 1st place together.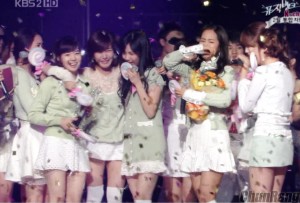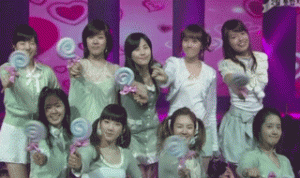 Tiffany Yelling 'Let's go Sosi'
—————— credits: NewsEn & ak6c@soshified (translations) & sosiz (pictures)
—————— please credit if taken out
What a sad, emotional article.
Really shows how busy they really are and how hard they're working all the time.
소시 파이팅이다. ㅜㅜ. Congrats to SNSD for winning. They really deserved it.
Did anyone else hear Tiffany yelling 'Let's go Sosi' in the end while they all cried?