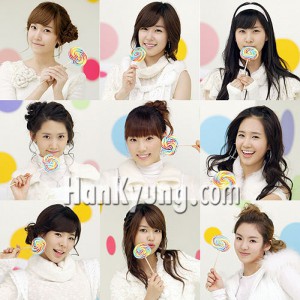 On Feb.14th, the J-POP songs that SNSD members like to listen to will be released as an album with the
name, "Sweet Memories with SNSD".
'Sweet Memories with SNSD' will consist of two J-POP songs from each of the 9 members of SNSD that
they enjoy listening to. Some of the artists include well-known singers like Ayumi Hamasaki, Amuro
Namie, Koda Kumi, Mika Nakashima, Yui, etc. and of course BoA, who have been active in Japan, and
DBSG. The album will consist of a variety of J-POP music.
Few of the songs recommended by SeoHyun include BoA's '七色の明日 ~ Brand New Beat'. Yuri's
recommendation was the theme song for the K-Drama 'Sorry but I Love You' which was originally sang by
Mika Nakashima and titled '雪の花 – Yuki no Hana'. YoonA recommended the mellow song '約束 – Promise',
sang by Tamaki Hiroshi in Nodame Cantabile. Tiffany's recommendation was DBSG's ballad song, 'Love in
the Ice'. The album will be a 2-Disc album with a total of 18 songs.
Especially with the upcoming Valentines Day, there will be also be an event. For 9 lucky buyers that
reserve a copy of the CD and gets recommended for their story of 'My Life's Best Valentines Day
Memory', they will receive a bouquet of flowers and chocolate signed by the members of SNSD.
This event will occur from the 5th to the 12th, and people can subscribe for the event by leaving a story of
'My Life's Best Valentines Day Memory' in the SM Entertainment homepage.
Also, on the upcoming month of March, there is already plans of releasing a POP (English) album
recommended by SNSD as well as POP & JPOP album recommended by Super Junior.
Album Cover

——————–credits: ak6c@soshified & HanKyung
——————–credit if taken out please

lol SM's way of leeching money off SNSD fan's pocket.