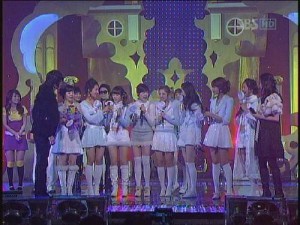 It was the first time the female-group SNSD rose to the #1 Spot at SBS Inkigayo in the new year.
On a live broadcast of 'Inkigayo' at Seoul 등촌동 SBS공개Hall starting from 3:20pm (Feb 3rd), SNSD received the Mutizen Song Award through 'Kissing You'.
It was the first time receiving an award with 'Kissing You'. "Thank You So Much" they said.
Last year, SNSD placed #1 two times in a row with the remake of Lee Seung Chul's 'Girl's Generation' at Inkigayo, but this was the first time with 'Kissing You'.
Also on Inkigayo that day, other artists that contended for the #1 Spot were VOS (Park Ji Hun), Turtles, Clazziquai, Wax, and Brown Eyed Girls.
Credits: LTY Cafe @ Naver
Translation: ak6c @ soshified.com
Credit if Taken Out