"Younger brother & sister, older brother & sister, soldier, and uncle fans, spend a fun New Year's Holiday
and if you're lonely, cheer up by thinking of us energetic SNSD!"
Ever since their debut last August, the 9-membered girl group SNSD have been heating up the Music Industry.
While having one hit after another from their single debut 'Into the New World' to 'Girls Generation' and 'Kissing You',
SNSD, who have been receiving love from all age group, are greeting this year's New Year's Day with a different feeling.
SNSD's Taeyeon, SooYoung, HyoYeon, Yuri, Tiffany, Jessica, Sunny, YoonA, and SeoHyun met up with StarNews seperately
last night (feb 3rd) at a studio in Seoul 강남. While smiling they said, "We are going on a vacation for the first time after our
debut during the holiday break (6th ~ 8th)."
Continuing on they said, "We weren't able to see our family often because we all moved out of our houses, but
we are extremely happy to be able to spend the New Year's Holiday with our mother, father, and relatives this year."
SNSD members also went on and said, "When we met up with our relatives last year, they would always ask us,
'when are you going to end your trainee days and finally debut'. Now, We are very happy because we don't think
we'll be asked that question anymore. Also, our happiness is doubled because we will be able to see the New Years TV Specials
(that SNSD made an appearance on) together with our family and relatives."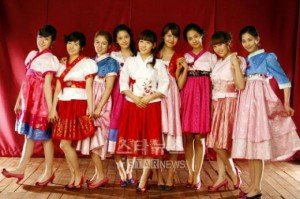 SNSD did not forget to thank their fans for letting them spend the New Years Holiday very happy.
"SNSD is here today because of our fans. Therefore, we are always grateful to our fans and we all hope that
each fan members will also spend a pleasant New Years Holiday with their families. To our younger fans, after
getting a good rest during the holiday, we hope you will continue studying hard. To our oppa & unni fans,
thank you for always loving us and we hope all your future plans work out well. To our soldier & uncle fans,
we hope you can forget all the hardships in 2007 and have a more delightful and healthier year 2008. haha"
Tiffany, whose family is living in the United States, LA, plans to go on an oversea vacation with her family.
Taeyeon's family is planning to come up to Seoul and spend their holidays together. YoonA, Sunny, and SeoHyun
in Seoul; HyoYeon in In-Chun (인천); Yuri in Il-San (일산); Jessica in Bun-Dang (분당); SooYoung in Kwang-Joo (광주)
are all planning to stay together with families and relatives.
SNSD finished off by saying, "After eating a lot of Rice-Cake Soup (떡국) and other delicious foods over the New
Years, we will continue working even hard promoting 'Kissing You'!" SNSD then asked the fans to continue cheering
them on so that their New Years wish of 'going out to Asia and succeeding!' and 'all the members being healthy!'
will come true.
——————————— credits: ak6c@soshified & starnews
——————————— Please Credit if you Take this out
I really like the HanBok they're wearing. :rolleyes: