takenine
Member Since 13 Sep 2011
Offline
Last Active Yesterday, 08:27 PM
About Me
Twitter: @takenine99

About Me!

Hi. I'm a mindless idiot. ._.

I tend to ramble. If you dig deep enough, you'll find a real person with meaningful words. Otherwise, I'm just... there. You know, the kind of person who just goes off, down the road, humming some silly tune with their arms going up and down like a crazy person? Yep. That's me.

Just for you stalkers: I was born in the wonderful country of XXXXX in XXXX. I'm XXX cm tall and I weigh XXX kg (the number of X's don't mean anything

). Just because I talk a lot doesn't mean I'm a girl; just because I say that doesn't mean I'm a guy.

After <insert long sob story here>, I presently live happily in complete isolation under a large rock with an assortment of SNSD merchandise and a starfish.

I'll admit sometimes I have a way too high image of myself. Too fix that, I suppose I must first admit that. So there.
I'm proud, but I worry about offending people a lot.
I hate it when my work gets stolen or my stuff gets copied.
And I ate a whole batch of cookies last night. D:

I'm a closet drama addict who doesn't watch dramas, and my goal in life is to someday be as tall as Sunny Bunny.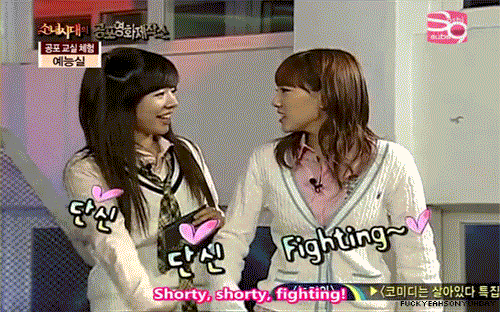 cr: f***yeachsonyuhday
About Soshi!

I've come to love Soshi after some er exposure to some people who I wouldn't say exactly love the girls... It's only been officially 2 years now though (as of Nov. 2010, but unofficially since... April 2010?).

My bias changes quite frequently. So expect to find me stalking all the members on each of their pages because I'm an indecisive loser who can't make up my mind open-minded type of person.

My personal view of the SNSD? Just a group of nine wicked bias list destroyers who will stop at nothing until each and every one of them has you wrapped around their pinkies. It's a conspiracy! And a dang good one at that.

Current biases: Soshi in general; Victoria; Fei

I'm a mild 8ce Family surfer.

SNSD fighting!



Random Enjoyable Quotes!
"Never run no matter how late you are." - Jessica
"A soccer ball. It came from the sky and hit me." - Jessica
"Genius can't win against those that work hard, and hard workers can't win against those that have fun." - Yuri
"Do you think I'm funny?" - Jessica
"Do you wanna... fried chicken?" - Taeyeon & Sunny
"But we don't eat fried chicken." - Yuri
"Free drinks, you know?" - Jessica
"Fine, stuff yourself and have a nice life!" - Sooyoung
"Yoona and I are dumb and dumber." - Sooyoung
"I'm brighter than mushrooms!" - Tiffany
"When I entered SM Sica unnie used to make me sit on her lap as she was bigger than me. Thank you for adoring me unnie, but now I'm bigger than you." - Seohyun
"Trust me, oh my gawd!" - Jessica
"Let us not procrastinate." - Sooyoung
"It's not important who gets to ride shotgun. We are all going to the same destination after all." - SNSD

Right now it's Girls' Generation! From now on it's Girls' Generation! Forever Girls' Generation!
지금은 소녀시대 , 앞으로도 소녀시대 , 영원히 소녀시대

If you will be SNSD next life, so will I be a SONE.
cr. Ace Bed
I just had some stuff to explain, and some shameless shameful advertising to do, so yeah. Please disregard.

---
Community Stats
Group

Soshified

Active Posts

1359

Profile Views

16380

Member Title

SOSHISM

Age

Age Unknown

Birthday

Birthday Unknown

Gender

Not Telling

Location

Under a rock

Interests

- Jesus
- Soshified
- f(x), Miss A
- Amami Yuki
- Jane Zhang
- Roger Federer, Li Na
- Sleeping
- Roller coasters
- Running, skiing, tennis
- Money money money
- Procrastination
- Last minute panic is better though
- Oh, and SNSD. Maybe

Favorite SoShi Member

All

Proud citizen of

Rather not say
Viewing Profile: takenine