giggle2much
Member Since 14 Feb 2009
Offline
Last Active Oct 05 2010 05:09 AM
About Me
SMTOWN WAS AWESOME!!!
_______________________________________________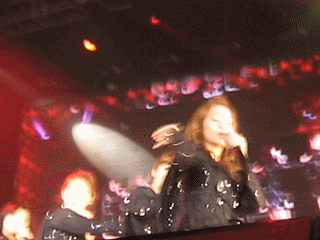 On the Daily:


* Where I Hang out: HOME & WORK
* On My Off Day : SLEEP & EAT & Computer
* I Like To: travel, shop, wine & dine (LMAO)
* Friends describe me as: Bougie (I Guess) or broke jet setter (hehe)
* I'm Really: quiet and nice (grumpy when I wake up)

Shopping Knowledge:
* Favorite Stores: Aeropostale, Coach, Dillards, Claire's, Nine West, Old Navy, Sephora
* Favorite High End Designers: Chanel, Dooney & Boorke,Dior
* Favorite Boutique Experience: La Perla ($300 Undies) *faint and dies*
* Favorite Auction: Ebay & Amazon
* Favorite Online Hidden Gem: Dressky.Com and Jpstyleu.com
* Favorite Online Food Store: Asian Food Grocer
Travel Experience:
* Places I've Lived: Pascagoula/Gautier,MS and Norfolk,Va
* Places I've visted: Mississippi, Virginia, TN, California, New York, New Jersey, Philadelphia, North Carolina, Florida, Nevada, Delaware, Washington, D.C.
* Place I wanna Go: Las Vegas (AGAIN), New York (AGAIN), New Orleans, Miami,Japan, Korea, China, Greece
Movie & Books & Magazines Oh My:

* Favorite Book: Twilight Series
* Favorite Magazine: Cosmogirl (never too old for it)
* Favorite Japanese Magazine: Egg Magazine (Crazy about Yumachi!!!)
* Favorite Movie: Memiors of Geisha, Mulan I & II, Transformers I & II
What I Watch:

* Cartoons: Grim Adventures of Billy and Mandy, Spongebob
* Adult Cartoon: Family Guy
* Anime: Orion High School Host Club
* Favorite Drama: TOOOOOO MANY!!!
* Sitcom: UMMM
* Drama Series: Nip/Tuck & CSI
* Disney Show: Suite Life on Deck (SO WHAT!!)
About the Music:
* American: Amerie, Mariah, Beyonce (sometime), Christine Milian
* British: Leona Lewis, Kelly rowland (as a solo act of course)
* Middle Eastern: Sheren, Sherine, Shereen (AWESOME) so many spellings
* Japan: Yuna Ito, Bennie K, Morning Musume, Kato Miliyah, Hiromi Miyake, Lecca, AND A WHOLE LOT MORE
* Chinese: Jolin Tsai (Need more artist)
* Korean: SNSD, Big Bang, Jewelry, Son Dam Bi, Rainbow, DBSK, 2NE1, After School, 4Minutes, AND MANY MANY MORE!!!
---
Community Stats
Group

Rookies

Active Posts

1

Profile Views

1889

Member Title

SoshiHoney

Age

33 years old

Birthday

January 21, 1988

Gender

Female

Location

Norfolk,VA

Interests

I love food, shopping and traveling! I need music to survive. LOL!

Favorite SoShi Member

Sooyoung

Proud citizen of

United States (US)
Viewing Profile: giggle2much