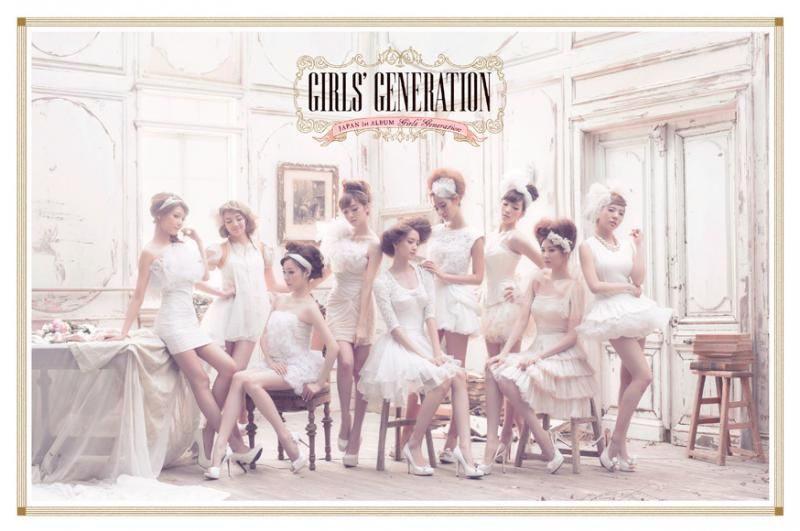 "Girls' Generation" First Japanese Studio Album
Music/Song Review
Before I start I hope that I am doing all of this right. I also want to point out that I (sadly) do not own the album so I will only be reviewing the music/songs and then some. For all you grammar/punctuation geeks - don't judge me! LOL
Girls' Generation had debuted in Japan with their Japanese versions of Genie and Gee and later released Mr. Taxi and Run Devil Run. On June 1, 2011, the girls released, IMO, their best album yet.
The overall album is just amazing. Unlike their Korean albums, this album had a variety of different sounds from pop to techno and more, but stayed consistent with this boss club like concept, which I loved. All the songs were catchy, had great beats, and showed off a lot of their vocals and a lot more:

The first song on there was released before the full album came out and was already a huge hit: MR. TAXI is not one of my personal favorites because it's more just pop than the rest of the songs but it is catchy as hell and not to mention Taeyeons intro with "Tokyo, Seoul, London, New York," that just sounds so awesome it reels you in to listen to the rest of the song.

THE GREAT ESCAPE is definitely my favorite in the album cuz it gives me that 80's, sexy, Janet Jackson feel (I'm not sure what that means exactly but that's how I feel when I listen to it). When the song starts with that beeping sound (?) and then the girls come in with hypnotizing tones, Jessica and Tiffany with their forever random English parts, pretty much all of their vocal deliveries (Jessica's solo part near the end is orgas ... killer), it all just adds up to one wonderfully messy song! I'M IN LOVE WITH THE HERO is another favorite because of how it shows the girls vocal abilities (Taeyeons ad-libbing at the end is my favorite) and the way they incorporated those drum sounds made it, shall I say, thrilling ... like in a movie??
Along with Mr. Taxi, BAD GIRL and YOU-A-HOLIC are catchy, great to dance to, and also very VERY sexy. These songs suit SNSD's overall concept of being the best in having great catchy dance pop songs. Also in being very VERY sexy.

There were some songs that, even though they still went with the whole album, didn't leave much of an impression on me. BEAUTIFUL STRANGER is a strong number but it just sounded too weird to me and I couldn't listen past the "Are you a good one? Are you a bad one?" The girls singing BORN TO BE A LADY really gave you the feels but it was boring and pretty much sounded like all of their ballads before.
LET IT RAIN, however, is not only catchy but was nicely sung. I'm not sure if maybe it's the darkish R&B sound or if SNSD accomplished that melancholy feeling you'd feel when listening to it. Not to mention there's some harmonizing in it which the girls rarely do.

Their renditions of the Korean songs were okay, I think I'm too used to the Korean ones so I can't really say much without comparing it to the original (GEE- too damn high, GENIE- isn't as cool without the repetitive "Sowoneul Mahrebwa"). RUN DEVIL RUN was probably the only song that sounded like it was made for Japanese words.
The somewhat unfair arrangement of the girls singing parts, the focus on the random English (no surprise there), the overall repetitiveness, the pricey album and the fact that it's not on freaking Itunes: the album has it's flaws but the great producing, composing, and everything else behind it (including the girls) made me believe this is the image/genre the girls should have started with, killed it, and forever be the most awesome group it is now, if not more.
​Check it out if you haven't already! May I also suggest watching their performances for the album, it's hot! And enjoy!
10/10, Duh!