For Yoona's 20th (Krn Age) birthday Hwasu (the largest fancafe for SNSD) wanted to do a special type of ad. Instead of just having the same messages written in Korean and all that jazz, they decided it was best to show Yoona the love she has from around the world and approached our staff with the idea of maybe getting the messages for Yoona's birthday in native languages from around the world. So we helped them out a bit and the results were extraordinary.
I had to throw a lot of emails back and forth with the coordinator over at Hwasu, "unclepanda" (his username on Soshified), but in the end everything came together and the Korean fans were impressed with the messages that Soshified was able to provide and had a hard time just picking a few because of how thoughtful and surprisingly international the messages were. In the end these members' messages were chosen:
dorklove
NadYoung
Love_TaeYeon
myma94
Anikó
Emily20
Love Soshi
soshiyana
Juan
cheong min
kaka
Vortex
Nanally
deeryoon
Fernanda
makublex
mikalie
Edge
TaeSun
Yondaime
Nannally
And the final result being Soshified.com being mentioned on the newspaper ad as well on many portal sites. I consider this not only a huge milestone for Soshified, but also for SNSD fans living around the world, because now everyone knows that there are SONEs that support the girls regardless of their age, ethnicity, nationality, gender, or where they live, that their music reaches out to just more than that.
For those that want to see the final ad: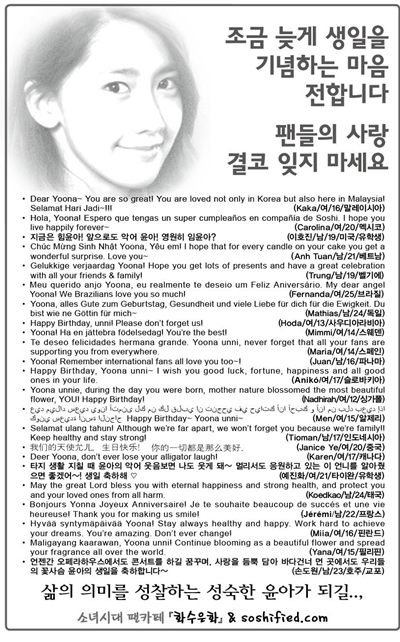 There are 2 news articles that have been translated by Xeth that contain more information.
The two articles:
http://soshified.com...showtopic=18791
http://soshified.com...showtopic=18764
Unclepanda also asked me to give them each a questionnaire with some questions about the fans and just SNSD in general, and if it's ok with the members, I would like to post them up (I have the original english format of the interviews). Thank you everyone that was able to make this possible! Keep it Soshified ^^